Amy's trip to Yunnan Province, China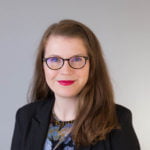 8th February 2017
Amy Robinson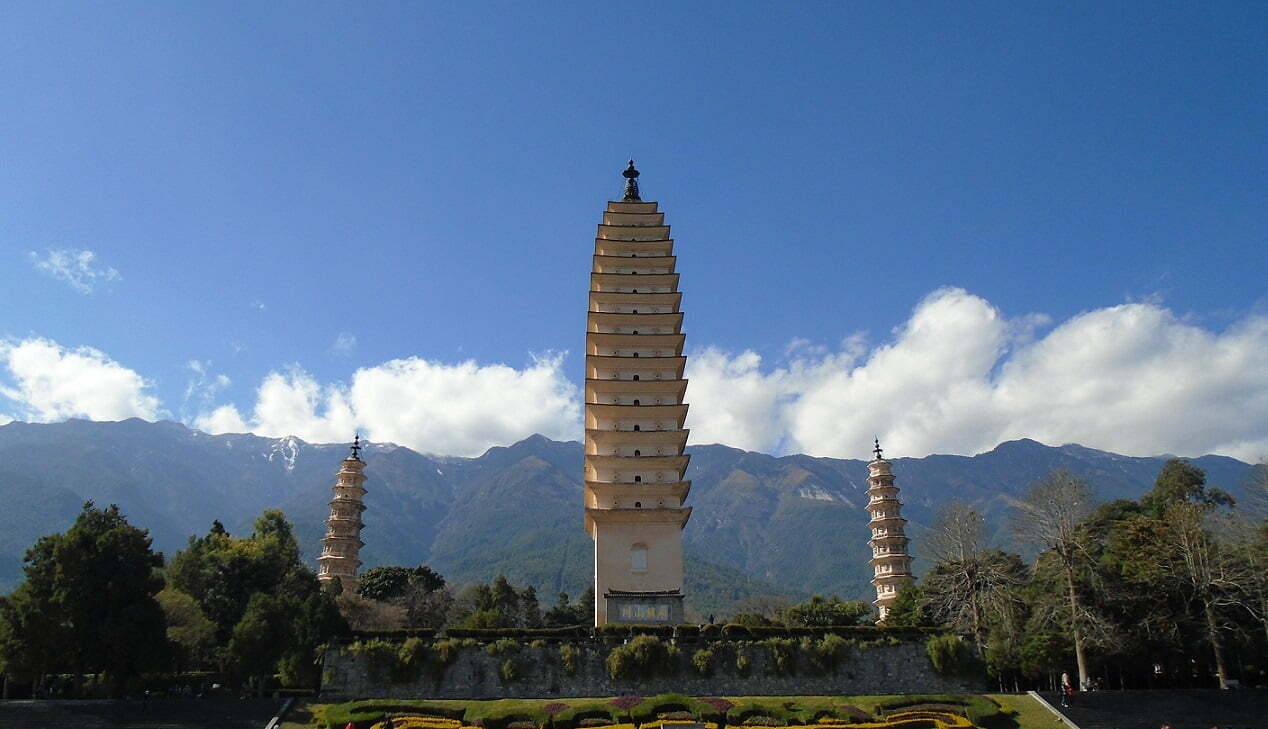 I started 2017 off in style, as I was lucky enough to spend the new year in China with my sister during a two-week holiday.  We had both been very interested in the culture for a long time, and were drawn to visit Yunnan Province, attracted by its year-round mild climate and scenic natural attractions.  Armed with a long vocabulary list and courage bolstered by a few months' worth of weekly Mandarin night classes, I put my Chinese skills to the test!  Here is my highlights diary.
Day 1 – Arriving in Kunming
We flew to Kunming via Amsterdam and Beijing, arriving in the late afternoon.  Kunming is the capital of Yunnan Province, and is also the largest city in the province.  We could really appreciate how bustling the city is on the taxi ride to the hostel.
Day 2 – Green Lake Park, Military Academy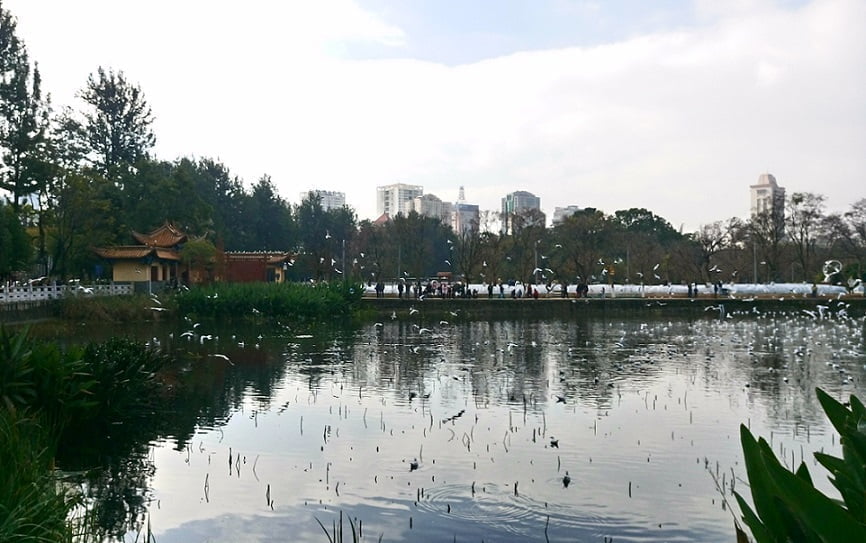 On our first full day in Kunming we took the opportunity to visit Green Lake Park, which is popular with tourists and locals alike.  We spent the afternoon there people-watching and taking in the scenery, there was lots to see – all sorts of activities, singing, playing music and dancing, there were photography exhibitions and peaceful pools with beautiful buildings and plenty of places to sit and watch the world go by.  One unusual fact about the park is that it is home to a great many seagulls, which the local residents consider to bring good luck.  We saw lots of people buying bread and feeding the birds.  We also stopped by the Yunnan Military Academy, which is just across the road from the park, and is a fascinating historical site where many military leaders have been trained.
Day 3 – Old Street
The following day, we ventured into the city centre via the bird and flower market, where we saw all sorts of animals and plants for sale.  After some time walking, we found ourselves on Old Street, which was a good location to see a contrast between the old and new parts of the city.  One thing we noticed is that according to Chinese custom it is polite to give and receive money with both hands, rather than with one hand only.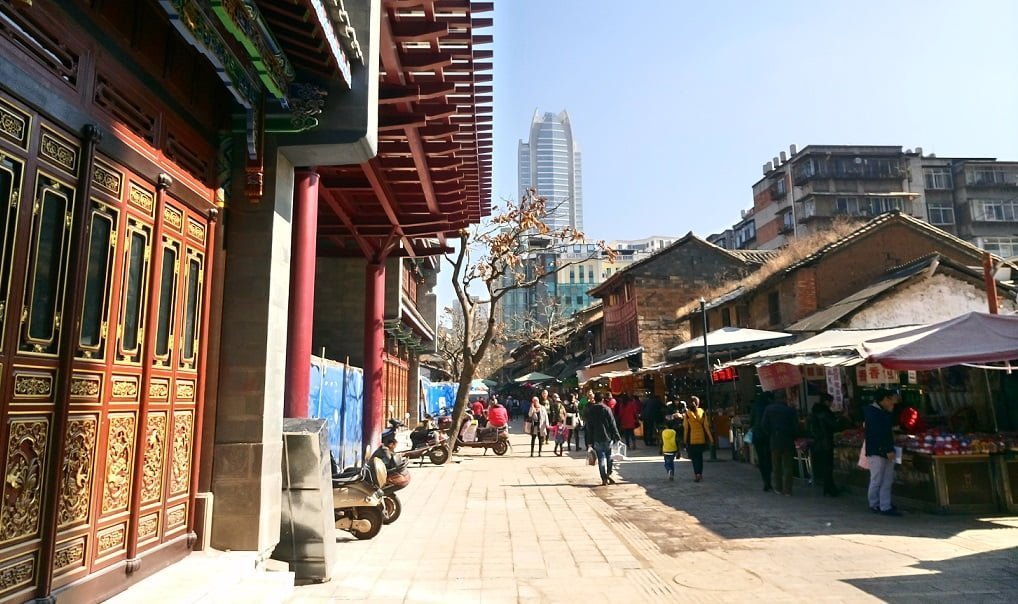 Day 4 – Travelling by train
Train travel in China was a very different experience to train travel in the UK!  It works much more like an airport than a train station system that I'm typically used to, but I had read a few blogs about it and even watched a YouTube 'how to' video before travelling, so I felt prepared.  At Kunming station you have to go through a security scan before you can access the main terminal, which is where you have to have your tickets printed and collected at a helpdesk (if you have a Chinese ID card you can access self-service machines instead).  You then need to have your ID checked and ticket stamped, and go through a second security scan, before going to a large waiting room, where you are allocated a certain gate number to wait at.  Once your train number is called, everyone queues up to go through a main gate, where your ticket is checked again in order to go through to the platform.  We had booked 'hard seat' tickets rather than sleeper tickets on our journey to Dali, which meant that we were seated on bottom bunks, four people to a bunk.
Day 5 – Three Pagodas of Chongsheng Temple
Once we had arrived in Dali, we headed to Chongsheng Temple park, which is a park containing three impressive pagodas against the backdrop of the Cang mountains.  Once you pass the pagodas, there is a series of temples to visit, and stunning views of the countryside and city as you hike further and further up through the complex.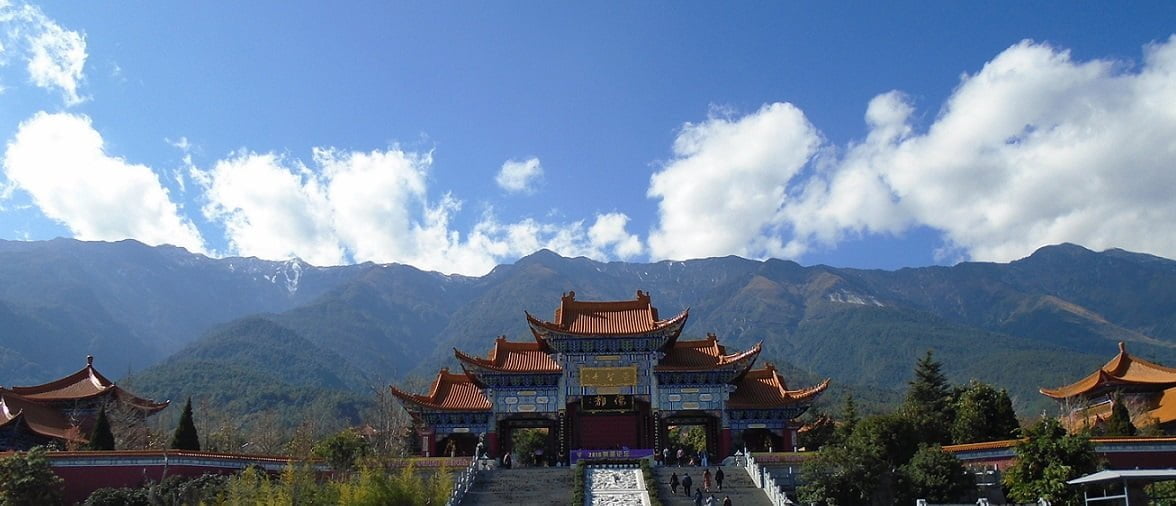 Day 6 – Erhai Lake, Cangshan Mountain
We caught the bus into Dali to get a better view of the enormous Erhai Lake.  Erhai means 'ear-shaped sea' in Chinese, which should give you an idea of just how big it is!  We managed to take some great photographs, before heading back to the Old Town where our hostel was located, and catching a cable car to travel a small distance up the Cang mountainside to visit a temple.  Later that afternoon, we caught a train to visit the final city on our itinerary, Lijiang.
Day 7 – Mufu Palace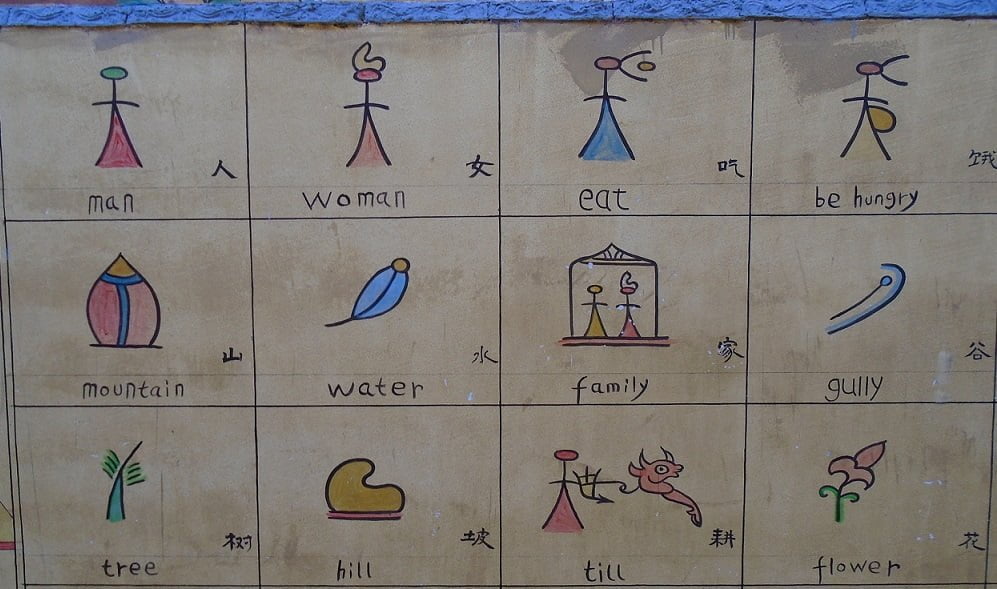 On our first day in Lijiang, we visited Mufu Palace, which is the former royal residence of the Mu clan of the Naxi people.  This isn't the original palace, but had to be rebuilt after an earthquake in 1996.  Nevertheless, the palace is very impressive and is brightly coloured and set in beautiful gardens, which were stunning, especially on such a sunny day.  We also learned some more about the Naxi Dongba script, which is an ancient system of writing and the only pictographic language in the world that is actively maintained.
Day 8 – Tiger Leaping Gorge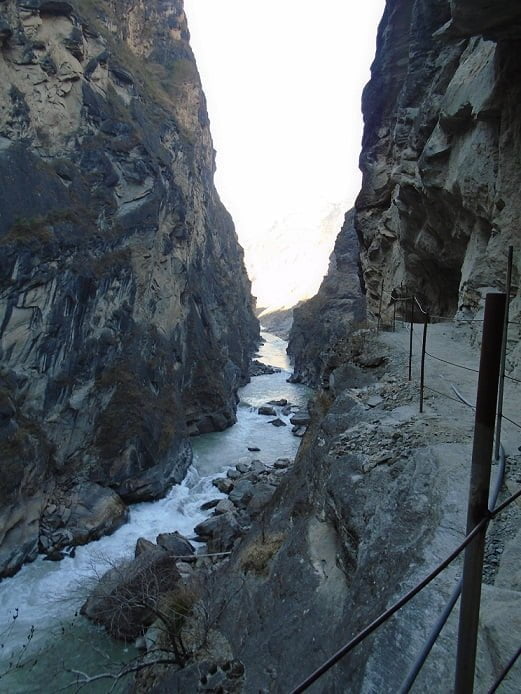 Tiger Leaping Gorge is a truly scenic canyon around three hours' drive away from Lijiang.  One of the upper stretches of the Yangze River runs through the bottom of the canyon, and a popular hike for tourists is to spend a few days walking the length of the gorge, which is around 22 kilometres (14 miles).  As we were slightly limited on time, we just visited Middle Tiger Leaping Gorge, and hiked down to the river from a local guest-house, getting the bus back to Lijiang the same day.  The views of the canyon as the sun was climbing throughout the morning were second to none, and although hiking was hard going due to the altitude involved, it was more than worth getting out of breath for!
Day 9 – Black Dragon Pool, Jade Spring Park
On our final day in Lijiang, we visited Black Dragon Pool, which is situated in Jade Spring Park near Lijiang Old Town.  It is a well-known tourist spot as it boasts a pagoda, a picturesque bridge, and views of Jade Dragon Snow Mountain which combine to make a great photograph.  The park itself is very peaceful, and we enjoyed walking round in the late afternoon as the light was perfect. All in all, it was a great way to round off our trip!
Looking for Chinese translation services? Call us on 08450 345677 for more information.