Our top 8 Christmas traditions from around the world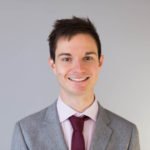 21st November 2019
Luke Martin
With the festive season fast approaching, we thought it high time to travel the globe in search of different Christmas traditions that are celebrated in other cities and countries. We have compiled a list of our eight favourite discoveries and hope you enjoy reading about them.
The Gävle Yule Goat – Sweden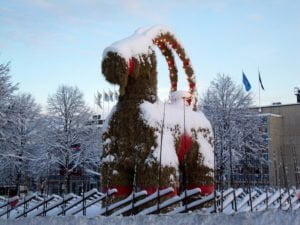 Dating back to ancient Pagan festivals, the Yule Goat is mentioned as far back as the 11th century, where tales tell of a man-sized goat with the power to control the devil. The goat has changed a fair bit over time and by the 19th century it was seen as a giver of gifts.
Since 1966, the tradition has taken on a life of its own. Every year, an enormous straw goat is constructed in the city of Gävle, Sweden. It measures just under 43 feet (13 metres) in height, 23 feet (7 metres) in width, and 3.6 tonnes in weight! You can even watch a live video stream of the goat from the first Sunday of Advent until the New Year, when it is taken down.
While not an 'official' tradition, though a tradition nonetheless, this poor Swedish goat attracts a fair few people attempting to burn it down each year. Since 1966, the Gävle Goat has successfully been burnt down a whopping 29 times, most recently in 2016. How will it fare this year? We may need to check its progress on the Visit Gävle website livestream!
Roller Skating – Venezuela
For residents of the Venezuelan capital of Caracas, Christmas morning sees groups of people rolling their way to mass, but not by car. The tradition is to strap on your roller skates and head out with your family to mass. Indeed, there are so many people who observe this tradition that many of the streets in the city are closed to traffic from 8am on Christmas Day, so that the congregations can skate to church safely.
Some children have even been known to sleep with one of their roller skate laces tied around their toe, with the other end dangling out the window. That way, their friends can tug on the lace as they skate past to wake up their friends.
KFC for Christmas Dinner – Japan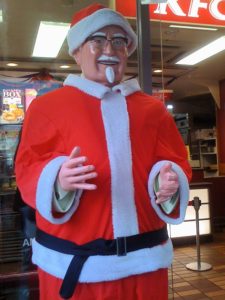 Our idea of Christmas Dinner is strikingly different to the Japanese equivalent of this meal. With a very small percentage of the population being Christian in the country, Christmas is not a national holiday and remains largely a novelty in Japan.
In 1974, KFC launched a festive marketing campaign in Japan with the simple slogan クリスマスにはケンタッキー ("Kurisumasu ni wa kentakkii!"), or "Kentucky for Christmas!" in English. This gave birth to a national tradition that still thrives over 40 years later.
Festive menus appear on the KFC Japan website, ranging from Christmas-themed standard buckets to quality roast-bird feasts, with families heading to their local KFC for a special Christmas Eve meal. Some people even order their boxes months in advance, given the high demand, or queue for hours outside the food chain.
The Yule Lads – Iceland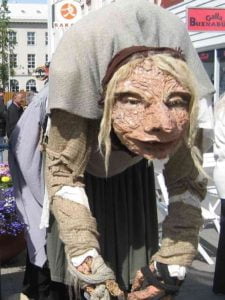 While we may have the 12 days of Christmas here, in Iceland they have 13 troll-like creatures instead. Jólasveinarnir, or "The Yule Lads" in English, come out to play across the country during the 13 nights prior to Christmas. Each night, children place their shoes by the window and a different Yule Lad comes to visit them. He either leaves a gift for the nice children or a rotten potato for the naughty ones.
These creatures are mischievous and are dressed in traditional Icelandic costumes. Each one has their own name which hints at the sort of trouble they like to get up to, namely:
Stekkjastaur (Sheep-Cote Clod)
Giljagaur (Gully Gawk)
Stúfur (Stubby)
Þvörusleikir (Spoon-Licker)
Pottaskefill (Pot-Scraper)
Askasleikir (Bowl-Licker)
Hurðaskellir (Door-Slammer)
Skyrgámur (Skyr-Gobbler)
Bjúgnakrækir (Sausage-Swiper)
Gluggagægir (Window-Peeper)
Gáttaþefur (Doorway-Sniffer)
Ketkrókur (Meat-Hook)
Kertasníkir (Candle-Stealer)
Another Icelandic tradition is their giant Yule Cat who is said to roam the snowy countryside at Christmas. Farmers traditionally used this cat as an incentive for their labourers to work hard. Those that did received new clothes and those that didn't were devoured by the beast!
Krampus – Austria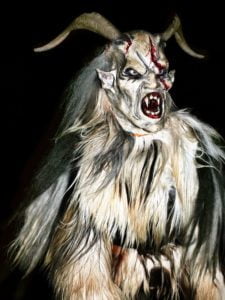 Stemming from Austro-Bavarian Alpine folklore, Father Christmas is not the only image that springs to mind at this time of year in Austria. The Krampus, Saint Nicholas' evil accomplice, is a devilish beast who roams the streets in search of badly-behaved children. If he encounters a naughty one, he will capture them and whisk them away in his sack.
People dress up as the Krampus throughout December, complete with hooves, horns, and clanking chains, ready to frighten children. There is even a Krampus parade in Vienna each year. Be on your best behaviour, kids!
Galette des Rois – France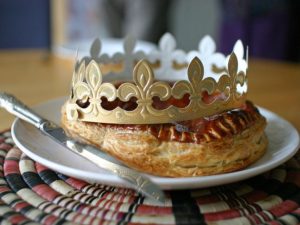 Although the Galette des Rois, or "Kings' Cake", is eaten on January 6th (Epiphany) and not during the lead up to Christmas, we have included it on this list as it still falls within the Yuletide period.
The cake consists of layers of flaky puff pastry with a dense apple or frangipane centre. In some parts of France, as well as in Spain where it is known as the "Roscón de Reyes", the pastry is a ring-shaped brioche with sugar and candied fruits, similar to a crown in its shape and colours.
In France, the tradition is to hide a porcelain figure, originally a broad bean, inside the galette before it is baked. This charm is known as a "fève". The youngest in the room then hides under the table. They then dictate to whoever is cutting the cake above which piece should be allocated to which person. If you are the lucky one to find the fève in your piece, you are named the king. You then receive a paper hat to wear and may dish out orders to others at the party.
Broom Hiding – Norway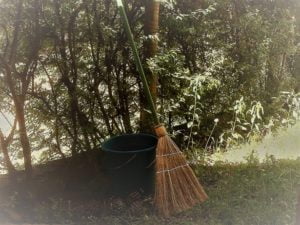 The third Nordic nation to make this list, in Norway it is said that Christmas Eve coincides with the arrival of mischievous spirits and witches. According to Norwegian folklore, this is the day when they take to the skies and get up to no good!
Since the preferred mode of transport for witches is on their broomsticks, it is a tradition for families in Norway to protect themselves by hiding their brooms and other cleaning supplies attached to sticks before going to bed.
Tió de Nadal – Catalonia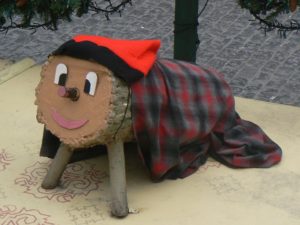 Although an English translation of Tió de Nadal would be "Yule Log", it is important not to confuse the chocolate dessert with this Catalan character.
Often called Caga Tió, or "poo log", this persona is a wooden log with a painted smiley face at one end. He wears a traditional Catalan hat, a "barretina", and may be described as the equivalent of Father Christmas in Catalonia.
As the tradition goes, Caga Tió is cared for by children throughout December, until Christmas Eve. His rear end is covered with a blanket to keep him warm, and he is fed turrón and other treats every night. The more food you feed Caga Tió, the more presents you are supposed to receive.
On Christmas Eve, the children beat the log with sticks while singing traditional songs. Then they leave him alone for a while. When they next see him, Caga Tió has pooed out their Christmas presents! Then, once he has fulfilled his Christmas destiny, he is thrown onto the fire with the other logs.
We hope you enjoyed learning about these unusual Christmas traditions around the world! Why not find out how to say Merry Christmas in other languages?
Maybe you have some exciting cultural content of your own instead that would benefit from translation. Please feel free to browse our tourism translation page for more information.