Happy Chinese New Year 2019!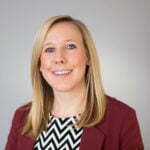 4th February 2019
Emily Robertshaw
Chinese New Year 2019 is the year of…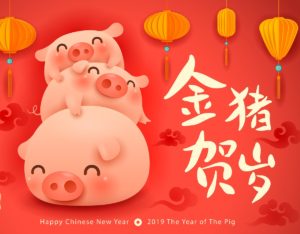 …the pig!
The 5th February 2019 is officially the start of Chinese New Year, which is part of Spring festival leading from winter into spring. 2019 is the year of the pig… but what does that mean?
Zodiac animals
In Chinese culture, each year is represented by one of 12 different animals of the Chinese zodiac. These are Rat, Ox, Tiger, Rabbit, Dragon, Snake, Horse, Goat, Monkey, Rooster, Dog and Pig. Each animal has different characteristics and those born in that year are said to share those characteristics. Each zodiac animal also has lucky and unlucky numbers, lucky and unlucky colours and much more.
Characteristics of people born in the year of the pig
The years of the pig include 1923, 1935, 1947, 1959, 1971, 1983, 1995, 2007, 2019.
Those born in the year of the pig are thought to be independent, generous, optimistic and considerate.
Their lucky numbers are 2, 5 and 8 and lucky colours are yellow, grey and brown.
Pigs are most compatible with tigers, rabbits and goats.
What to eat at Chinese New Year
Chinese New Year is all about spending time with family and friends eating delicious food. A lot of the traditional foods are eaten because they're said to bring good luck to all.
One of the main dishes eaten is fish, in particular carp and catfish, as fish symbolises prosperity for the year ahead. The fish tends to be kept whole and steamed with lots of ginger.
Eating Chinese dumplings and spring rolls is believed to bring wealth; dumplings because they are shaped like Chinese ingots, which was the currency many years ago and spring rolls because they are thought to look like bars of gold.
Longevity Noodles are also very popular. These are noodles that are longer than normal and are uncut and will bring happiness and longevity to your life.
Chinese New Year traditions
Red is considered to be a lucky colour in China and one of the biggest traditions around Chinese New Year is giving red envelopes containing money to family and friends as gifts.
Houses and streets are decorated especially for the Chinese New Year celebrations. Red lanterns are hung outside doorways, paper cuttings are stuck to windows and blooming flowers and kumquat trees take pride of place in people's homes.
Fireworks and firecrackers are set off not only for the magnificent displays but they are said to scare away evil spirits.
Chinese New Year in the UK
All major cities across the UK such as London, Manchester, Liverpool, Edinburgh and Bristol will be having their own Chinese New Year celebrations in 2019. In London keep an eye out for the parade between Shaftesbury Avenue and Trafalgar Square on the 10th, while in Edinburgh there's a large concert on the 9th, which features the Edinburgh Symphony Orchestra.
Andiamo! offers specialist Chinese translation, DTP, subtitling and interpreting services. Find out more about our services here.
Also, take a look at our guide to Chinese business etiquette to help you do business in China.