MIRANDA – 20 years at Andiamo!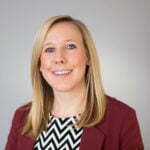 3rd June 2016
Emily Robertshaw
This month, our General Manager Miranda is celebrating her 20th anniversary at Andiamo! Our directors Anne and Marc look back at Miranda's hard work, dedication and achievements that have led to a thriving business.

The beginning
The seeds of Andiamo! had been sown about 8 years before Miranda's speculative letter arrived and set us thinking… Up to that point we'd run the business from home, then from offices in central Cirencester.
Now we needed to recruit an expert to dig us into languages less familiar than the regular FIGS (French, Italian, German and Spanish). Technologically, things were growing fast: WordStar and WordPerfect yielded to Word; Windows 95 had just been launched; file formats were becoming increasingly complex and varied; and communication was mainly by phone and fax. Andiamo! needed an expert…
At the same time, Miranda was looking to move south from Leeds: serendipity!
Her background as a linguist included postgraduate experience in managing agency work in oriental and other languages, typesetting and a whole range of file formats.
We met her in May, and in June 1996 Miranda joined Andiamo!
An eye for detail
We soon discovered that her zero tolerance of the slightest errors made her a stimulating and challenging colleague to work with.
One day, she asked me to check some Chinese typesetting: I gave it the green light. However, I had missed a comma, which the typesetter had failed to italicise, as per the original and as appropriately 'Mirandared'.
Andiamo! standards we agreed, attained and maintained by the growing team. Miranda's dedication to the company was demonstrated when she left work at 5pm one Thursday evening and had given birth to her daughter by the next morning!
A move up North
After 8 years of working in Cirencester, winning large contracts and expanding the business, Miranda moved back up to Leeds and centralised all aspects of the company. Leeds was a fantastic choice of location for Andiamo! because, not only did we meet there years ago, the city has excellent universities.
It soon became apparent that having a Yorkshire office for Andiamo! HQ was the most fruitful solution, with Miranda expanding her activities in all fields, including personnel recruitment and management.
Andiamo's continuing growth and success are due in no small way to the energy, commitment, competence and loyalty of the General Manager: Miranda.
"I have loved the opportunities Andiamo! has given me and can't believe where the past 20 years have gone. I have always enjoyed coming in to the office each morning and seeing what challenges lie ahead.
From the early days of having a local client base so we could hand deliver translations, run round to repro houses to output films for the printers just in time to catch the post to everything being at your fingertips and being able to typeset translations for digital printing, it's been incredible to witness such huge advancements in technology. Not to mention the size of computers shrinking, the rapid development of CAT tools and Project Management software, who knows what the next 20 years will bring?!"