Happy 10th Andiamo! Anniversary Jane!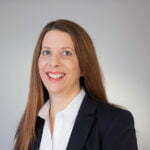 2nd March 2022
Miranda Sambidge
Jane Crossley joined our project management team as a Master's graduate of Leeds University 10 years ago. She's now Projects Team Leader and a key part of our team.
To celebrate this fantastic achievement, we thought we'd find out a little more about what she does at Andiamo, and how she spends her spare time when she's not delivering translation and interpreting projects for our clients.
How did you start your career at Andiamo?
I did an undergraduate degree in French and German. And as part of that, I did an internship with a translation company, and that piqued my interest.
And after that, I decided that I wanted to do a Master's in Translation. Which I completed at Leeds University. I enjoyed the project management side of it and applied to be a project manager at Andiamo.
What's the best thing about working at Andiamo?
I think there's nothing quite like meeting that seemingly impossible deadline. And it's great when everybody pulls together.
What are your most memorable projects?
I think the most memorable ones are always the most challenging ones.
Often, it's the ones where we manage up to 60 linguists at a time, and you're coordinating the linguists, in-house staff, and typesetters.
But I also like the creative projects as well, especially ones where you can't have a word-for-word translation. It's really interesting to see what creative solutions the translators put forward.
What's been your biggest challenge?
Keeping up to date with what's going on in the language industry, as everything seems to be moving at such a rapid pace with the advances in machine translation. And also the fact that there are so many CAT tools now.
What do you like to do to unwind outside of work?
I do lots of different things, whether that's like a park run or a longer run. I think my highlight so far has been combining my love of running and my love of Berlin as well. So I completed the Berlin Marathon a few years ago.
Where's your dream destination?
I absolutely love Italy. I love the food, I love the culture, I love the language, and I'd like to explore more of it. But I think my absolute dream destination is Hawaii.